NEW! Training can be taken on iPads and tablet devices.
Certify Your Forklift Operators Online.
Meet OSHA Requirements in All 50 States.
$44.95 per student for a 3 year subscription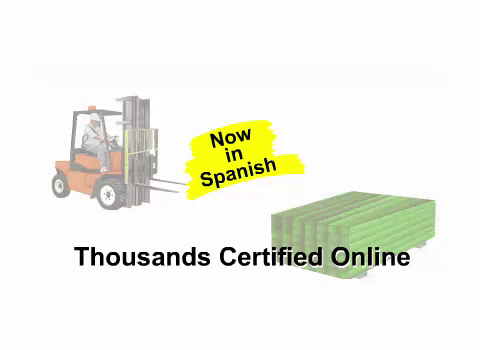 English or Spanish, controlled by student
General Forklift Training Sections
Welcome to STUDENTS
Forklift Safety Equipment
Differences between Cars and Forklifts
Things that Affect Forklift Stability
How to Operate on Inclines
Visibility and Pedestrian Safety
Forklift Capacity
Steering and Tip Over Accidents
Outdoor Operations
Instruments & Controls
Periodic Inspections
Load Handling Basics
Wide Load Handling
Unusual Load Handling
Engine Operation
LP Gas Fuel Safety
Cubed Load Handling
Electric Forklift Battery Safety
Gasoline Fuel Safety
Hand Signals
Pallet Rack Safety
Loading a Trailer
Loading a Van
Forklift Attachments
Summary of Warnings and Precautions
Meet OSHA Checklist Requirements
Have your operators complete your custom pre-shift checklists on the Mobilist.app phone app and eliminate paperwork.
Meet OSHA requirements by verifying checklists are completed and saved.
Provide automatic alerts and discrepency reports to managers.
Simple to use, easy to set up, inexpensive, no new software.
Click here for more info